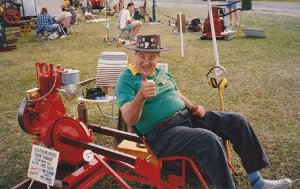 The club was founded in the early 1980s by a small group of old engine enthusiants. Early meeting were held at member's houses and then at the West End Special School, where the name North Queensland Machinery Preservationists was chosen.
Some public displays were put on and the club was soon asked to attend local community events, such as the Bush Children's Home annual fundraiser and the Field Days, which has become an annual fixture both in Townsville and Mareeba.
The club has a busy calendar in the cooler months, with at least one display every month from May to September, plus a couple more as the weather warms up.
Outside of the local events in Townsville, we make at least one trip to Ravenswood each year to maintain and display three engines on behalf of the Ravenswood Preservation Association at their annual Pioneer Luncheon.
Recently we have attended the Dam Fine Rally and the Townsville Heritage Day, both of which were very successful.
With a few exceptions, events are normally one day affairs held on a Sunday. Members bring a varienty of working and static display items, from horizontal and vertical engines to antique lawn mowers, generators and tools.